On Saturday 24th June 2017 our society organized the sixth event under the old lime tree in our village. A few years ago, we revived this old village tradition with the purpose of bringing the village people together in the centre of the village where they talk and sing old songs.
Our mission is best represented by the lyrics from our first song, which was beautifully sand by the trio Pojav (means: Phenomenon) »If once there is no sound of our old country songs, you, Slovene nation will also be no more«.
The main organiser and host was Simon Petrič, as the event was held in his back yard under the lime tree and his family and friends provided everything for a pleasant evening.
They also welcomed us with home-made pretzels and a glass of brandy.
In his opening greeting our president Marko Šavli presented all the performing artists and wished us to have a nice evening and pointed out that this year we certainly will not be chased away by rain and cold like at the last year's event.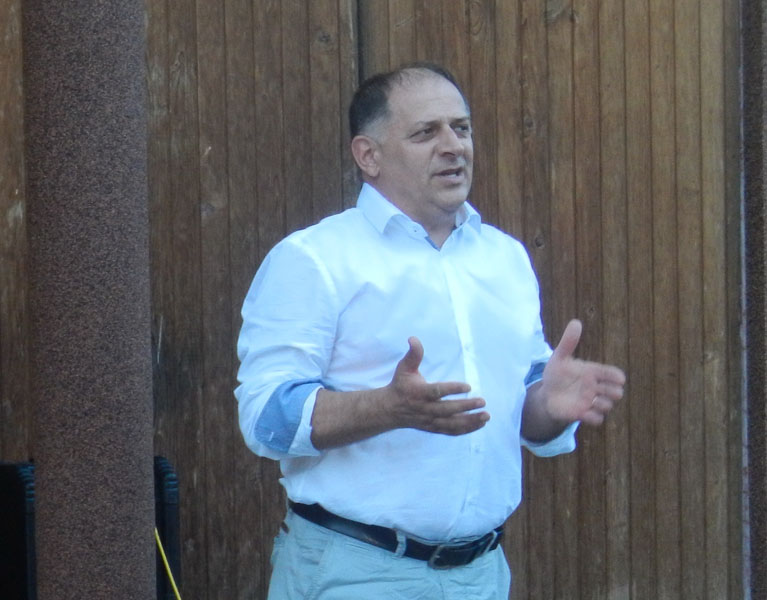 Trio Pojav (Phenomenon)
 Trio, the national and entertaining ensemble, called Phenomenon, in which Simon plays and sings, brings together friendship and joy to this kind of music, and they perform in this ensemble four and a half years. They already play some of their own songs, for the song entitled Maybe, they recorded the video, and that evening they also performed as vocalists without accompaniment. It was pleasant to listen to their youthful voices, I was very impressed by the folk song, Where are those young guys, whose last tale I mentioned in the introduction. Later, they took in hands instruments for national and entertaining compositions and some visitors were encouraged to dance.
Mešani oktet Polica - Mixed Octet, called Shelf (village near Grosuplje, means: shelf)
 Although years ago the evening's singing under the linden was the "domain" of the boys, this mixed octet also sang - but without two of the four members. In 2014, they celebrated the 20th anniversary. They are led by mentor Emil Kovacec, who is also president of the Cultural Society Polica, to which octet belongs. As early as 1987, he moved from Velika Nedelja to Polica, as a teacher of music education in the elementary school of Louis Adamič Grosuplje. As a mentor and organizer of numerous events, he connects the indigenous people with the newly-settled Poličani and with vibrant energy and the width also interconnects the associations. Octet sings folk music from various Slovenian landscapes and plays a vital role in preserving cultural heritage in Polica. They perform at numerous choirs' magazines and we also gladly listened to their singing, which proved their longstanding joint engagement.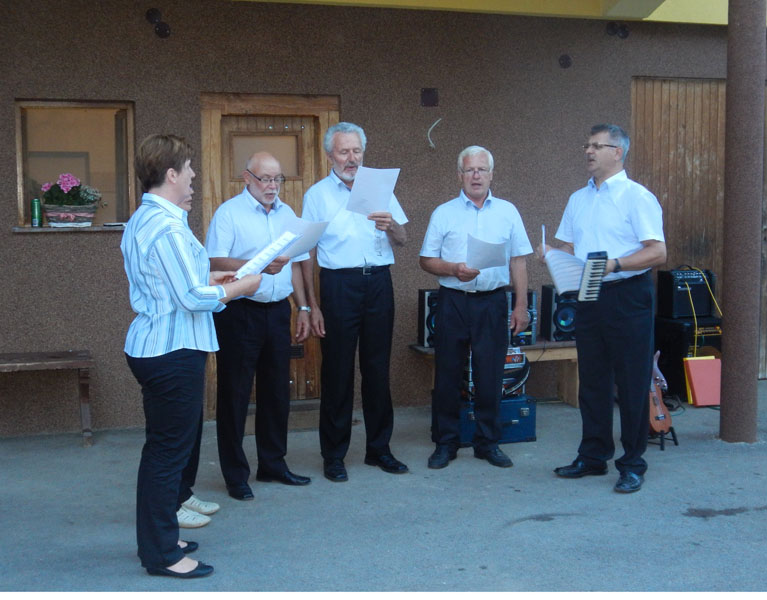 Klapa Gallus
 The six-member Klapa (means: group) Gallus, in which plays and sings the president Marko, was founded in 2014. They have been found themselves in various previous music groups, and have been in various ensembles since their youth, from folk-entertainment ensembles and rock groups to choral choirs. They named themselves after the composer Jakob Gallus Petelin (means: cock) and, as they said in an interview, also because on the stage they are like cocks. They were mostly merged with the love of Dalmatian music - so there is no lack of mandolins among the instruments. They perform performances of well-known compositions, but also prepare their own songs; they have set up many projects that are very seriously dedicated to them. At the event, they warned us that they had just recorded a fun video for the adaptation of the famous song Mini - maksi of former Slovene band "Bele vrane" (means: white crows), which we also heard this evening. In the song entitled "Only memory, the girl" the bassist Jure impressed with recognizable voice. We have applauded, to many songs already during the performance, including the famous Dalmatian Ružo moja. (My flower).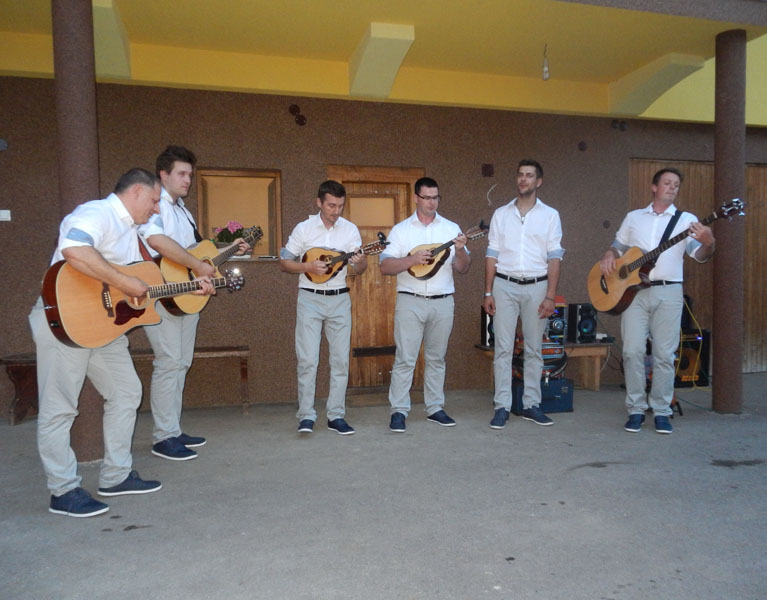 Unique colourful apples
 Simon's wife, Tina Čandek, has sewed the unique apples from the textile pieces for performers. Apples will be a nice memory and there is no fear that they will be eaten by worms.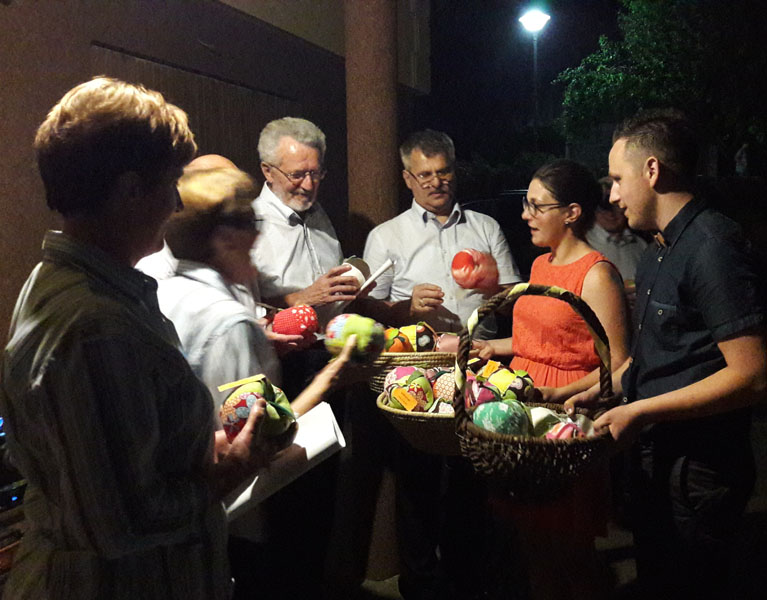 In the following
 Late in the evening, both groups (Gallus and Appearance) merged and added some songs with a bit of improvisation, which required a lot of coordination - read: friendly quarreling. At the tables, they continued in a smaller number, where all the audience tried to enforce their wishes.
The visitors were impressed by Vera, who is the aunt of Simon's father Damjan and she is 85 years old. She sang (solo, but in the company of a former classmate Stane Zabukovec), a song with which she symbolically touched the younger years.
Previous year was an unforgettable evening, but this year was even nicer for most people. The majority of visitors, which was significantly larger than previous years, did not go home, even when it was already Sunday.